Our Approach
Academy of Acoustics follows the philosophy of experiential learning, where both theoretical and practical approaches complement each other.
Experiential learning perceives knowledge as created through the transformation of experience. Kolb's experiential learning cycle used in AoA describes four stages of the learning process: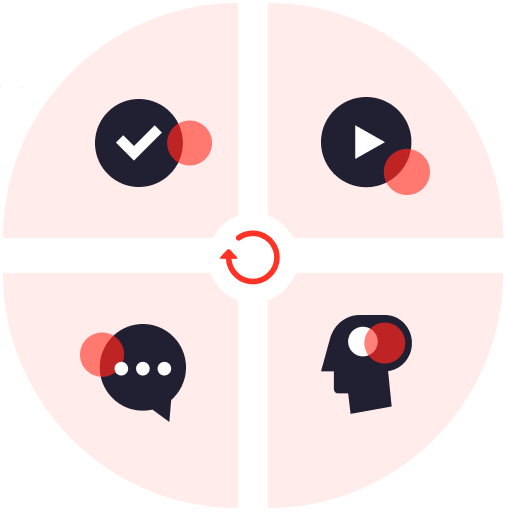 Try
1.
Real experience - immersing in a task and doing it to get the real life experience. We believe that the most efficient learning is through practice so we incourage

you to jump straight into it!
Reflect
2.
Insightful observation - stepping back
from doing by reflecting on what has

been done. Reflecting on your approach
to the problem and sharing it with others will

allow you to see the issue from a broader

perspective and may inspireyou to change
your way of thinking.
Conclude
3.
Abstract conceptualization – generalizing based on observations and drawing conclusions from the experience. Turn your observations into practical conclusions. Our materials will show you that it's possible to acquire useful knowledge even from a single experience
Apply
4.
Active experimentation - redoing the task by putting acquired knowledge into practice. The goal is to refine the performance thanks to experiential learning. Going through the full cycle of learning will enrich your experience and boost your motivation to gain

practical knowledge in the field of
acoustics through experimenting.
In this perspective, experience is the basic foundation of learning and is actively changed into deeper understanding by reflection. These insights, turned into generalizations, give a framework for further actions, leading to new experiences - and so the cycle continues. The learning process may begin at any stage of the circle and can be continued endlessly. Academy of Acoustics supports the learner at every stage of the process: by allowing for and enriching experience, facilitating reflection, leading to conceptualization and giving space for the application of newly formed concepts in active experimentation.
Methodology & Technology
We give you the insight into the world of acoustics by modern technologies and digital resources. Since we believe that the best way to apply knowledge is through practice, we aim at providing you with the best quality educational materials, focusing on real-life experience. Education must meet the needs and adapt to modern forms of knowledge transfer. In AoA, the entire team works on how educational materials should be presented and what is the best model to acquire knowledge by the learners.

Visualisations

Hands-on Simulation

Modern Technologies
Team of experts
Experienced practitioners provide valuable information about recurring challenges and questions related to their specific areas of activity. Through this process, the relevant topics for different types of industries and applications can be identified, and acoustic trainings can be tailored into handy resources.
Our trainers know practical requirements through many years of experience in customer service
and research.
Filip Barański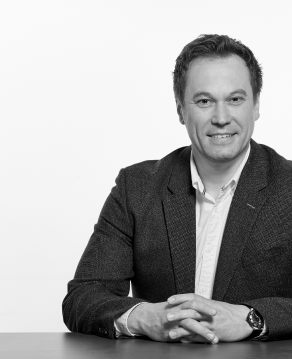 Doctor of Engineering – Chairman of the Board of KFB Acoustics. A visionary and practitioner with several years of international experience in industry and extensive experience in leading complex teams of researchers. As an entrepreneur, he successfully transfers his knowledge gained in the world of science to commercial activities in industry (methods and systems of measurement, machine and facility prototypes, software). His area of expertise includes, but is not limited to, leading and completing complex research and engineering projects for industry, including activities such as building, computing, measurements and prototype production. He is also an expert in the field of acoustics and machine vibrations.
The manager of several dozen of projects for European industry in the field of mechanical engineering, acoustics and vibration, scientific research, vibroacoustic simulations and numerical computing. An active member of the Committee on Acoustics of the Polish Academy of Sciences a member of the Association of Münchener Kreis der Baumaschinentechnik. This Munich association consociates technical directors of the biggest producers of construction machines in the world.
It includes representatives of the following concerns: Wirtgen GmbH, Bauer AG, TEREX GmbH, Liebherr GmbH, Komatsu GmbH, AMMANN Group, Wacker Group. As an academic lecturer, he inspires next generations of students by sharing his vast experience and promoting efficient cooperation between universities and industry companies in the field of product development and noise management.

Karolina Jaruszewska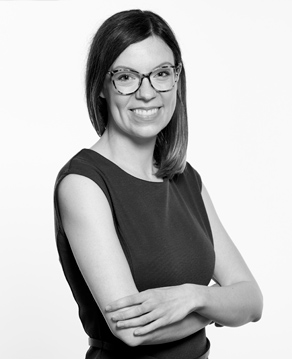 Project Manager, specialist in acoustics, a graduate from the Faculty of Electronics at Wrocław University of Science and Technology. Karolina has participated in many research projects and assignments for industry, i.e. cooperation with ABB, 3M, Volvo, Hamilton, GM Manufacturing, Faurecia, and SCA.
Since 2014, she's been an international projects coordinator and a creative director behind various programs such as Acoustic Course for Industry (Erasmus+), Acoustic Course for Engineers (Erasmus+) and ArAc- Multibook of Architectural Acoustics (Lifelong Learning Programme). Karolina is also a coordinator of the educational platform Acoucou.org.
One of her tasks is building strong strategic partnerships with researchers, engineers and specialists as well as and creative and efficient teams. Karolina successfully completed postgraduate studies Master Class of Management at SWPS University of Social Sciences and Humanities. She is also a member of the Polish Acoustical Society.
Bartosz Chmielewski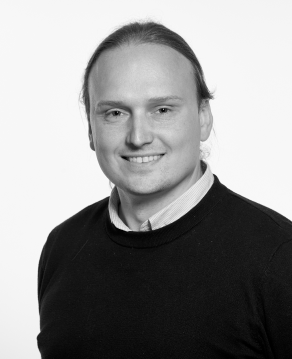 M. Eng., Head of R&D Department. He has performed analyses for manufacturers of machines cooperating with companies such as: Wirtgen, Caterpillar, Volvo, 3M, Solaris, Sca, Unilever, Teksid, Nemak, Pratt&Whitney, Hamilton, Upm Raflatac, Pzl Mielec, Famur, Man, Federal Mogul, VW, and Wrocławskie Centrum Badań EIT+.
Within the scope of scientific activities, he has conducted research on new methods of modelling the sources of noise for the purpose of computer simulations, mathematical models for calculating the effectiveness of anti-noise solutions, testing acoustic parameters of construction solutions, and testing the practical application of active noise reduction methods in the industry.
Within the scope of scientific activities, he has conducted research on new methods of modelling the sources of noise for the purpose of computer simulations, mathematical models for calculating the effectiveness of anti-noise solutions, testing acoustic parameters of construction solutions, and testing the practical application of active noise reduction methods in the industry.
Tomasz Malec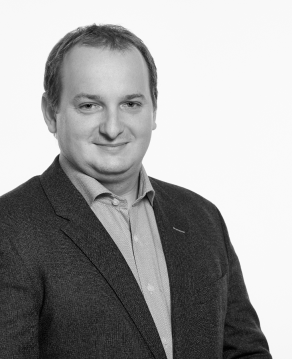 Doctor of Engineering, Head of Acoustic Department. Professional work has focused on industrial acoustics mainly includes environmental acoustics and infrasound noise. He is specialising in complex noise protection, starting with measurements and acoustic modelling, through designing and manufacturing of anti-noise solutions.
His professional experience includes several reports on an environmental impact, integrated industrial work permits (noise-related), several programmes of environmental protection against noise for cities and voivodeships (including Szczecin, Opolskie Voivodeship), acoustic maps
for several cities (including Szczecin, Białystok, Rzeszów, Zielona Góra, and Sosnowiec), and strategies for reduction of noise at workplaces and penetrating to the external environment developed for large industrial plants.
Marcin Łuczak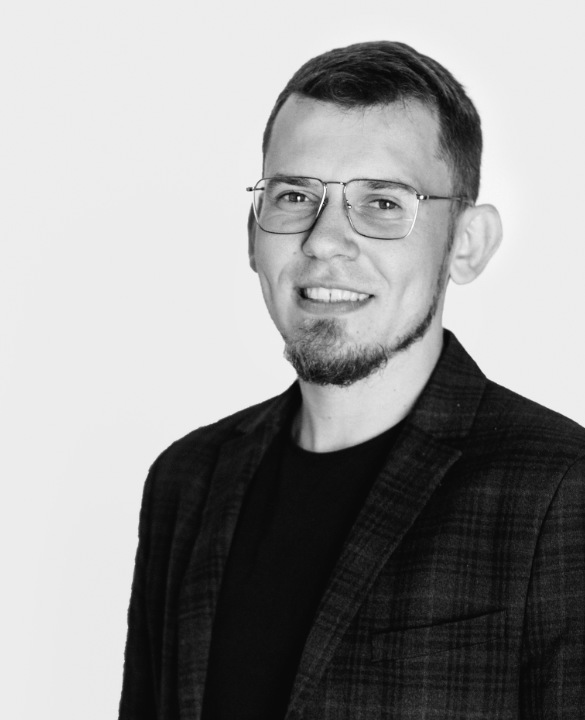 MSc.Eng., Acoustician, Content Manager. Marcin received a Master's degree in Acoustics, Electronics Engineering and Telecommunications Engineering at Wrocław University of Science and Technology. He obtained hearing care specialist qualifications.
Since 2014, he has been cooperating with KFB Acoustics as a researcher and a content manager working on international projects (Acoustic Course for Industry, Acoustic Course for Engineers and ArAc - Multibook of Architectural Acoustics), which are now parts of the educational platform Acoucou. His tasks are focused around cooperation and communication between specialists-acoustics and graphic designers
or programmers, which ultimately leads to the production of targeted content and materials. Over the past years, he appeared in the local radio and internet podcasts as an expert in the field of acoustics and hearing loss. He also shares his knowledge and experience by working as a trainer and conducting lectures and workshops for specialists interested in acoustics.
Patryk Kobyłt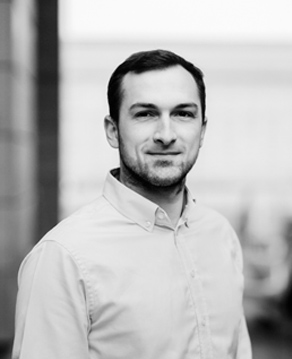 A Master of Science in Engineering and a specialist in acoustic measurements and their system design. Patryk graduated from the Faculty of Electronics at Wroclaw University of Science and Technology, where he obtained a Master's Degree in Acoustics.
After graduation, he continued his adventure with acoustics as he coordinated many projects across the Europe in the field of workplace acoustics as well as environmental acoustics. His main interest include measuring and identifying the source problem as well as creating solutions to it.
He also performed vibroacoustic analysis for machine manufacturers such as VÖGELE, Hamm, FAM, Famur, Liebherr, Terex, Krone. Patryk designed and developed a few measurement systems according to customer requirements (Sound Intensity, Impedance Tube, Noise from Wind Turbine). His experience allows him to train the next generation of young acousticians and help them grow.
Invitation contact form to fill
What can we help you with?

Please feel free to reach out to us with any questions regarding the content of courses, enrolment procedure or any other topics related to our educational materials.